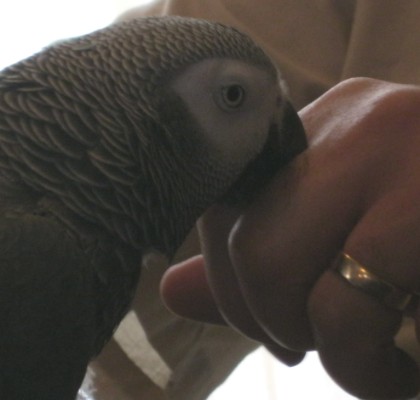 Pickles in the 'bicycle rack'.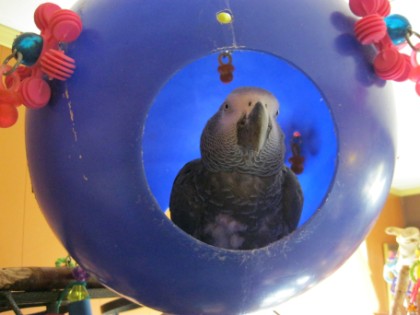 Pickles in his Fun Factory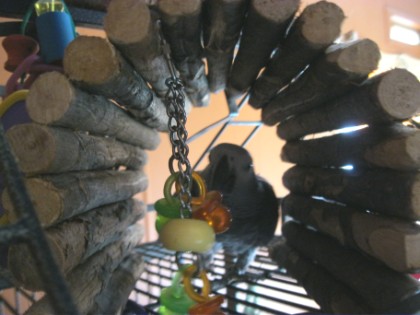 Pickles in his log cabin.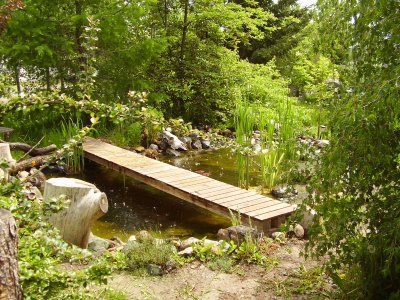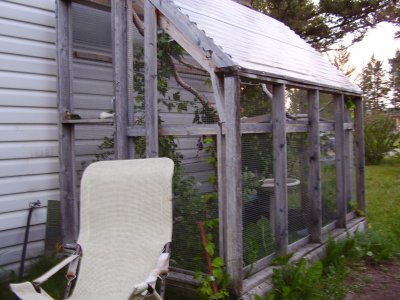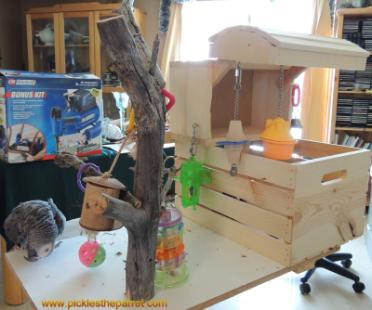 Pickles' 2012 Xmas present. Just have to put the trim around the base so he doesn't chew on it.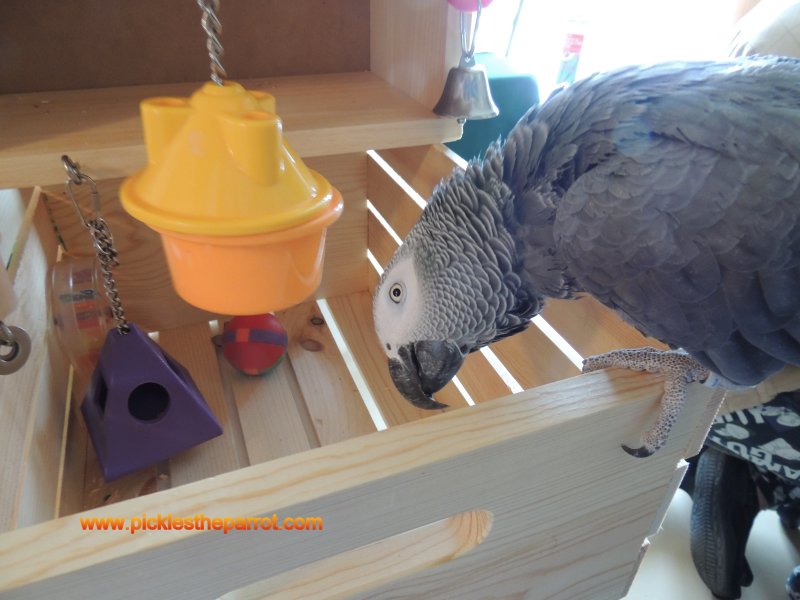 A bonus playing and hiding area.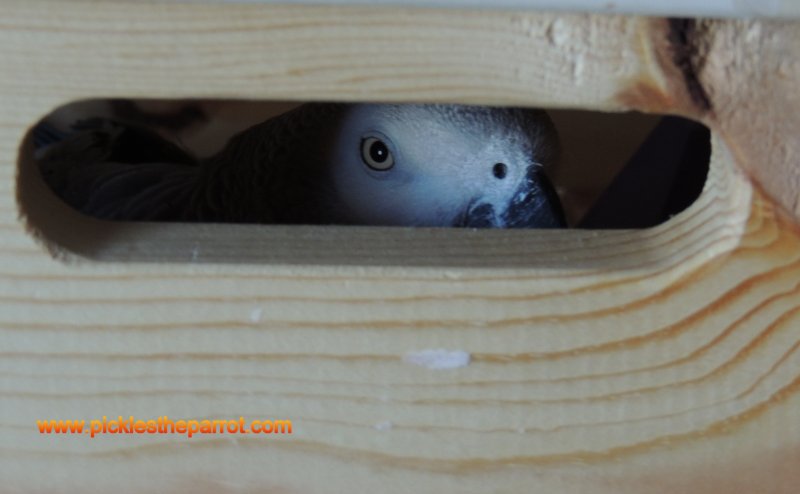 Peekaboo. (From inside the crate on his playstand)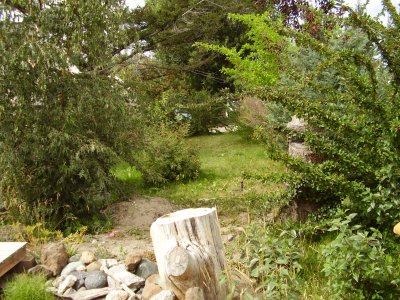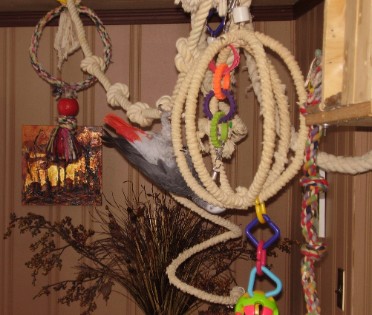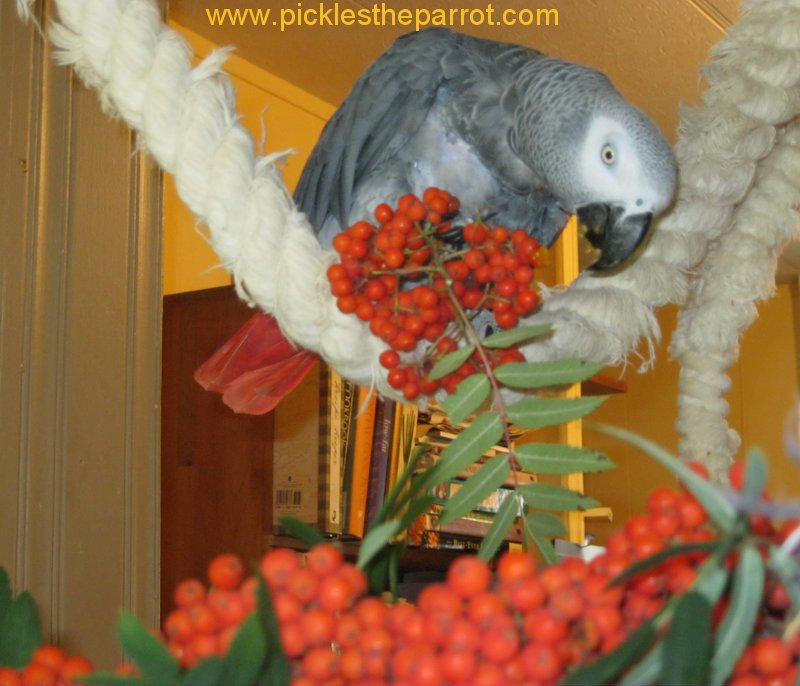 Pickles diningroom ropes and boings.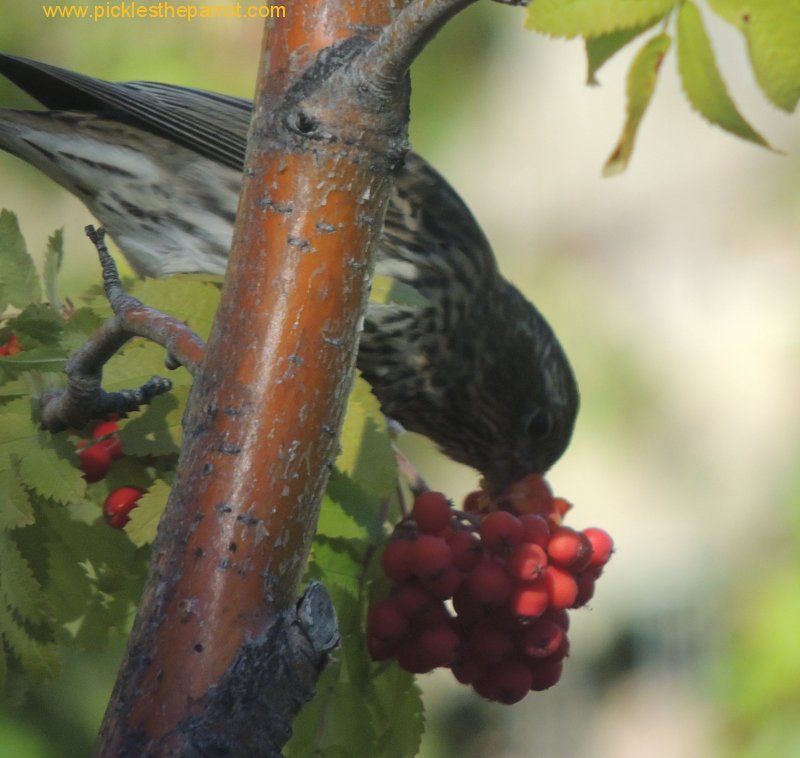 We make sure to leave LOTS of Mountain Ash Berries for the wild birds too.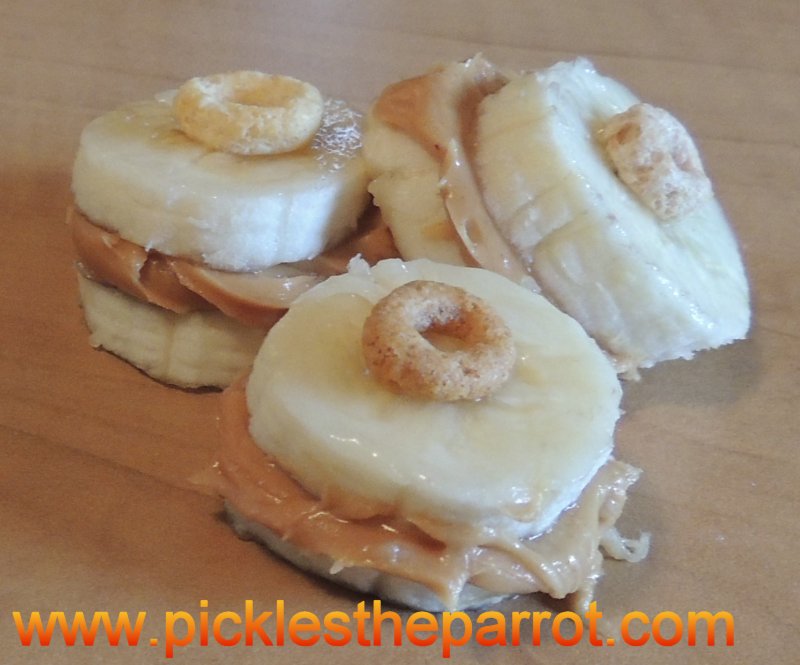 A special treat - peanut butter between banana slices, topped with a Cheerio.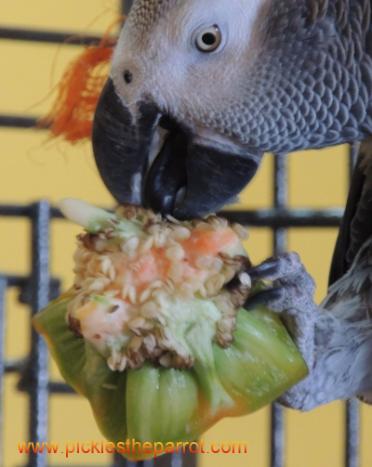 Pickles isn't crazy about peppers but he loves it when we give him the core from any kind of pepper - bells or hot peppers - so he can devour the nutritious seeds.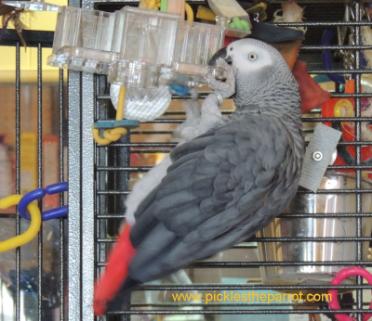 He also likes hanging off it.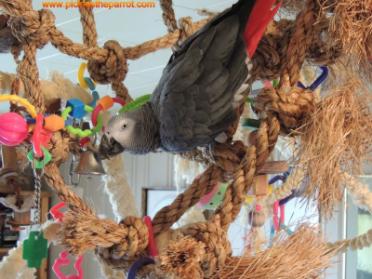 Loves his ropes and boings.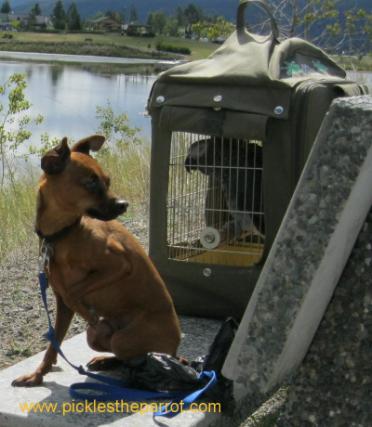 Taking a rest while walking around the lake in the middle of town (Logan Lake)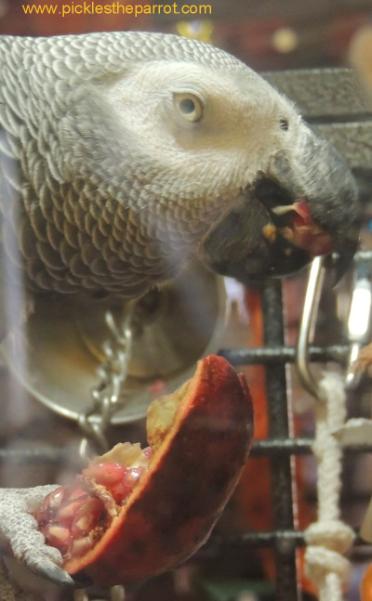 Nothing more refreshing than a nice slice of pomegranate!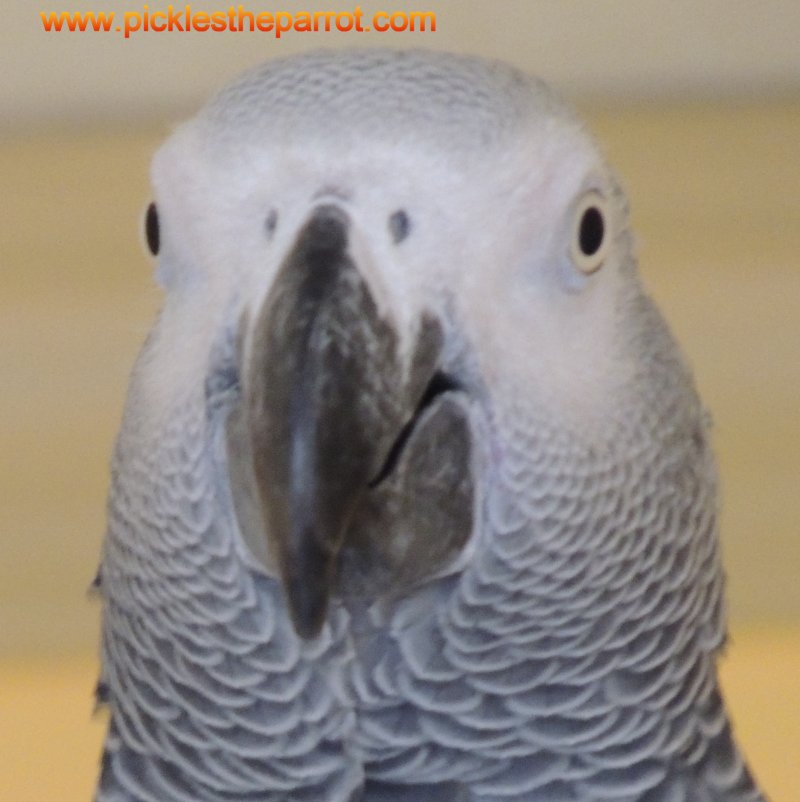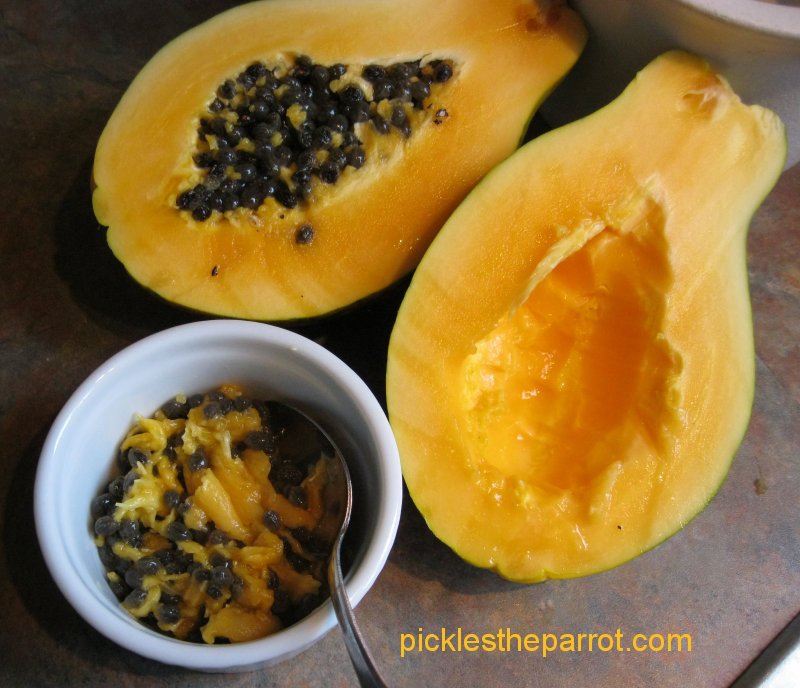 mmmm, papaya. But better yet - papaya SEEDS! Pickles loves them.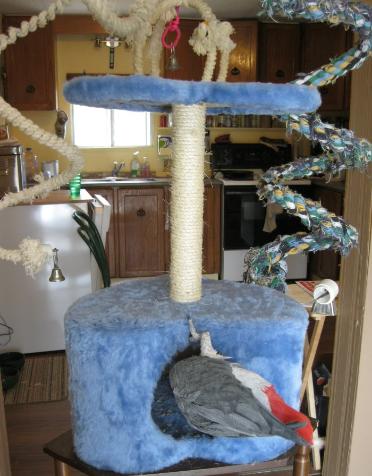 Pickles likes to hang out in his cat tower.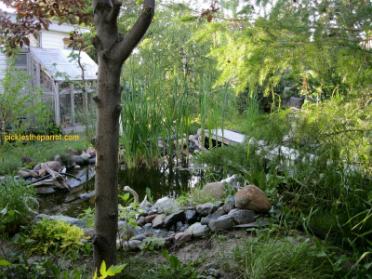 View of the aviary from the other side of the pond. The aviary is situated next to the house.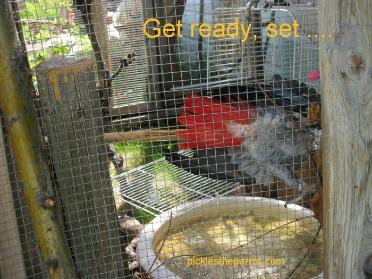 Pickles likes to dive into his bath.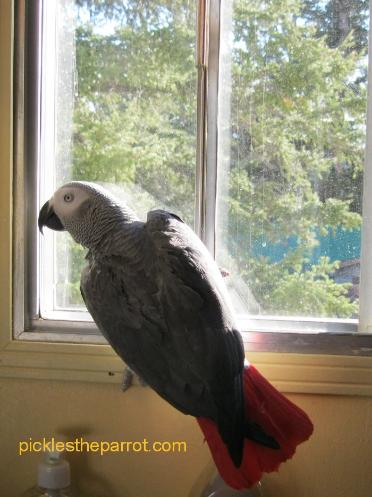 Silly bird. Every time he gets startled, he flies off and gets stuck on the kitchen or living room window frame and waits for us to rescue him.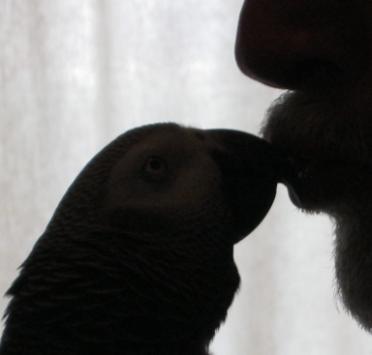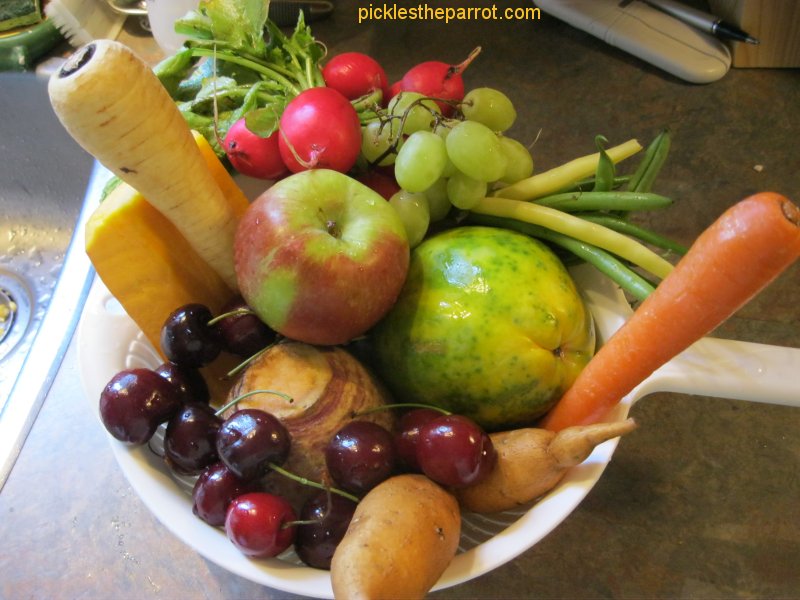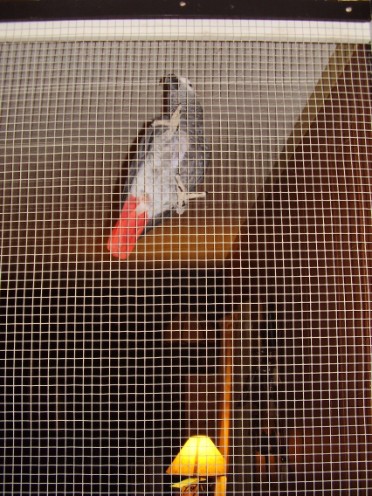 The tacky screen door between the livingroom & kitchen to keep him contained if we're busy.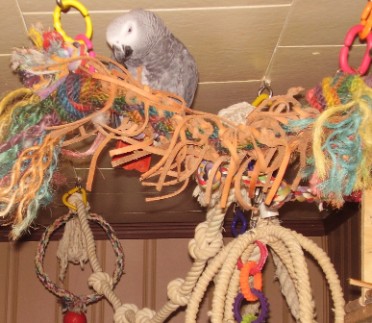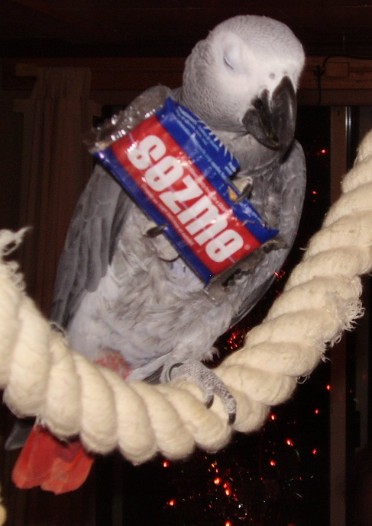 In heaven with a WHOLE package of his Sesame Snaps.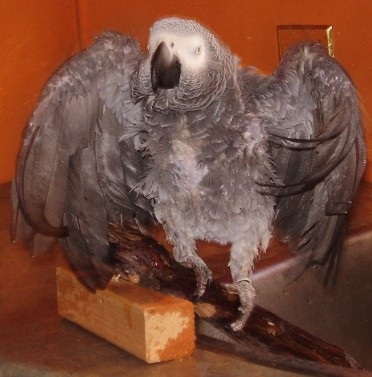 Pickles running back and forth on his sink perch to get a little wet under the tap.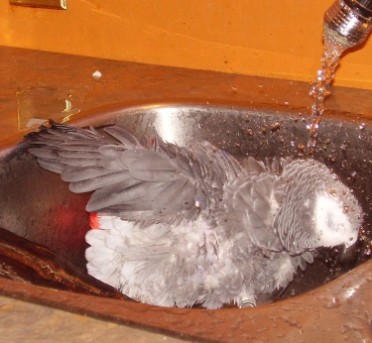 Actually getting a little wet.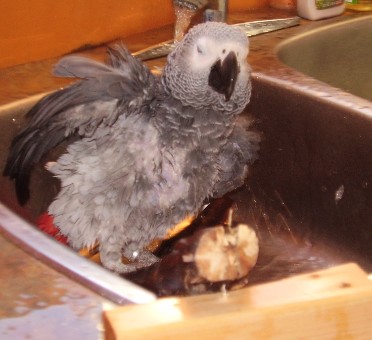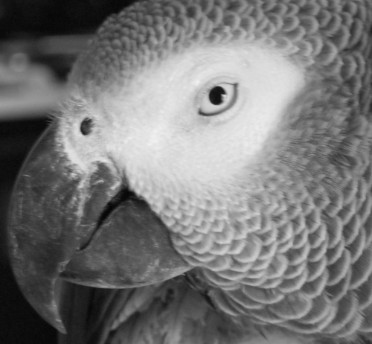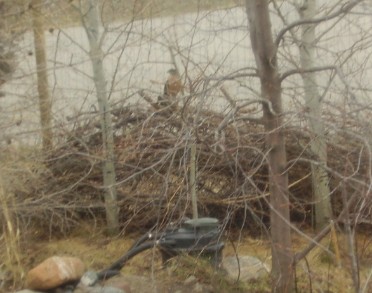 Hawk on slash pile - little birdies hiding inside. We have a couple of slash piles in the yard for just this reason - protection and good foraging.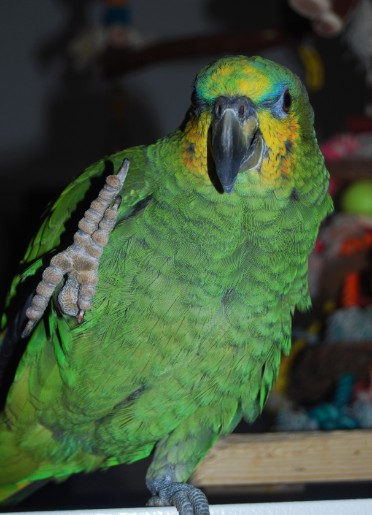 My lovely fiance, Fiona Happy-Tater, who lives in California. We met on Face Book.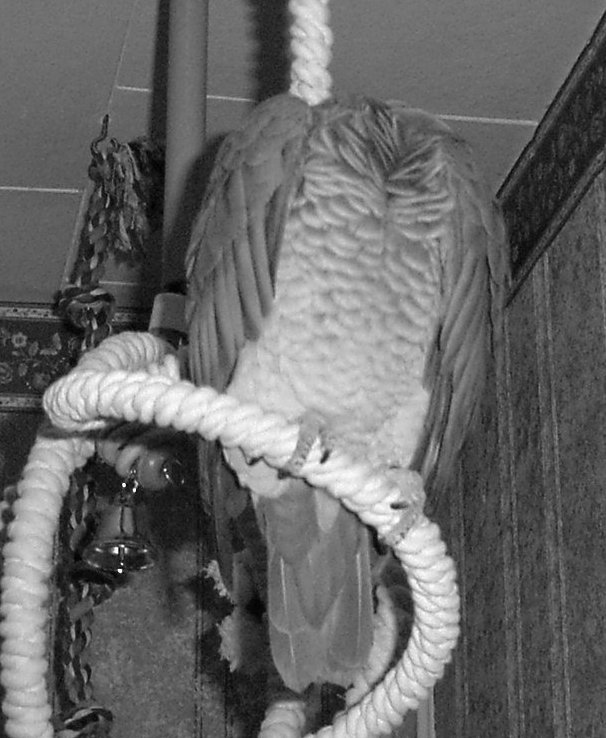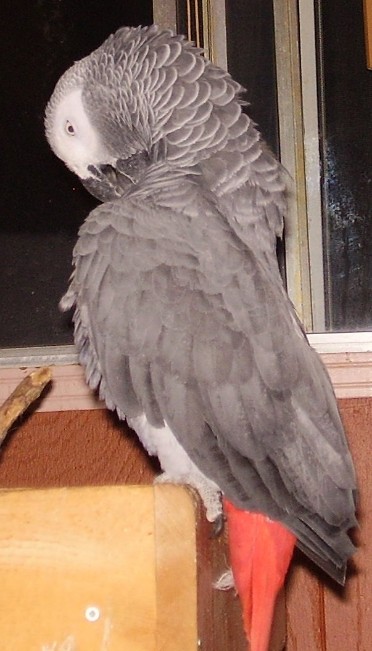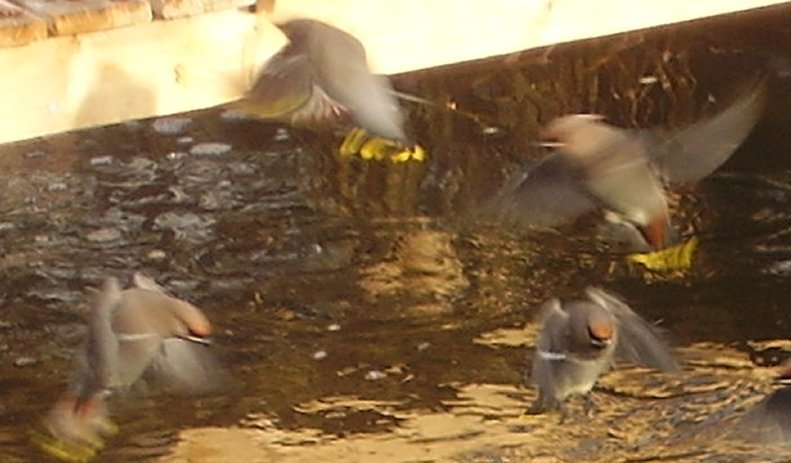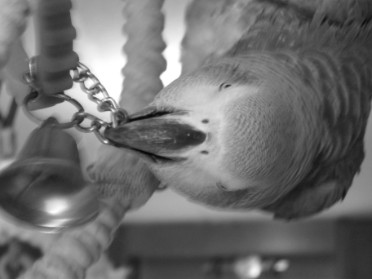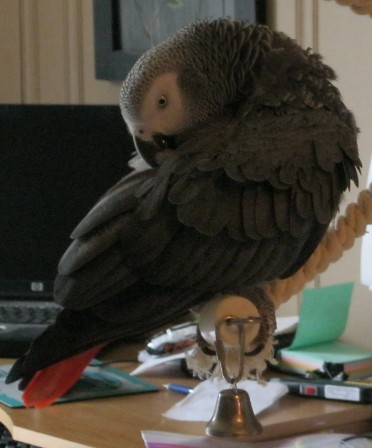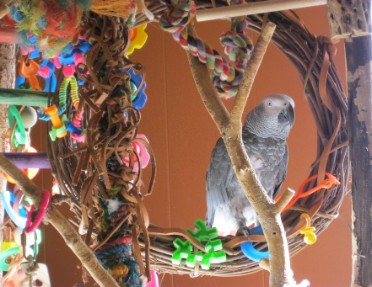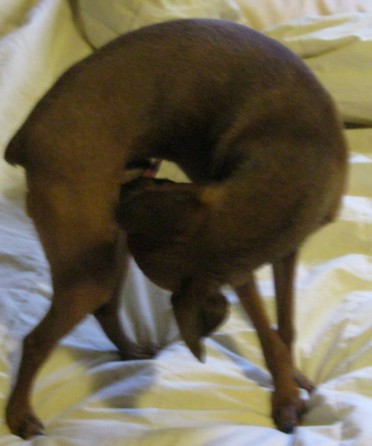 Gotta check with the dick about everything.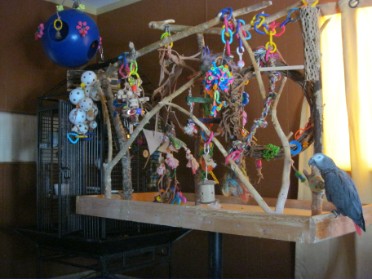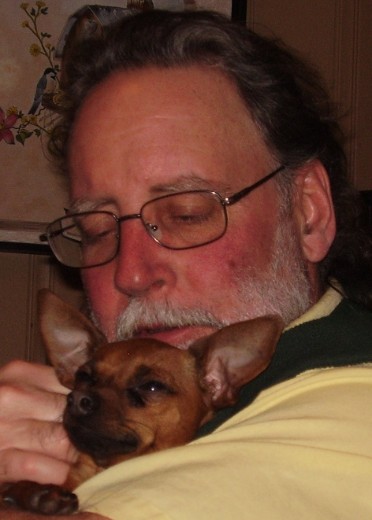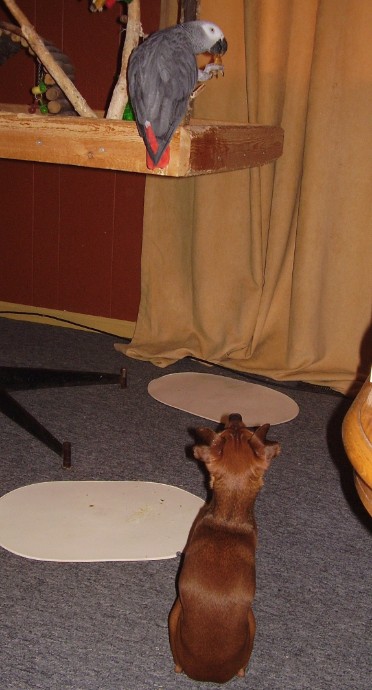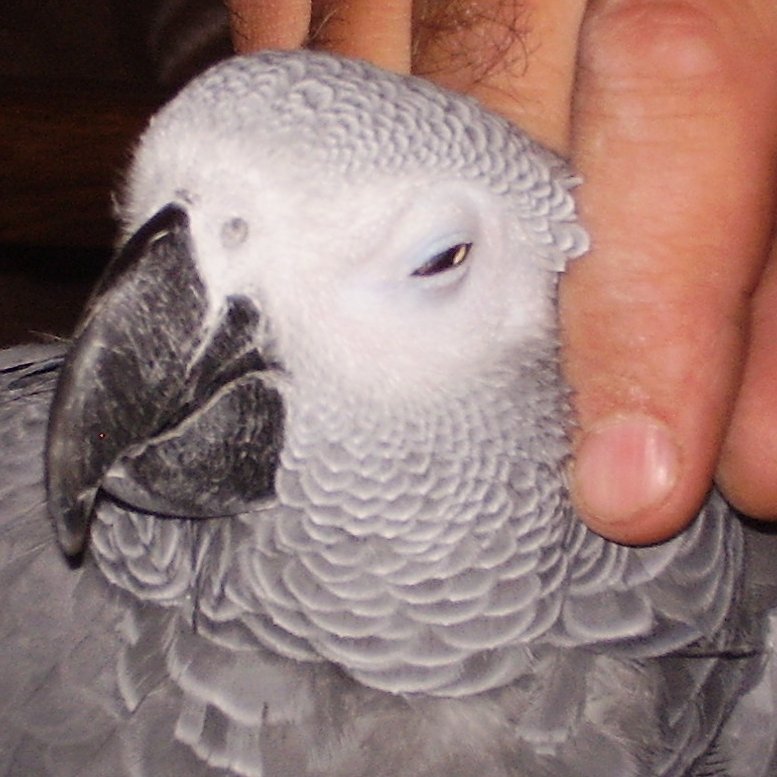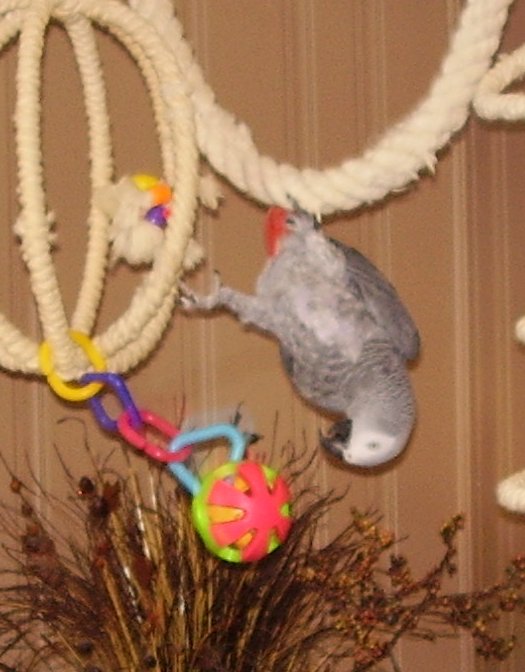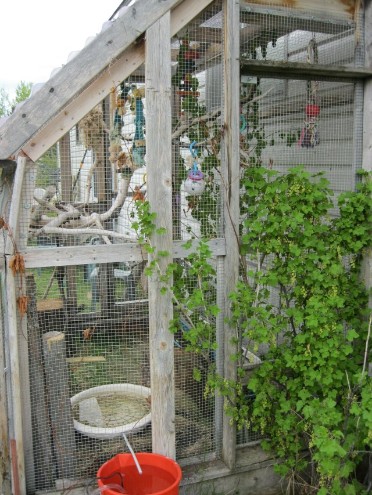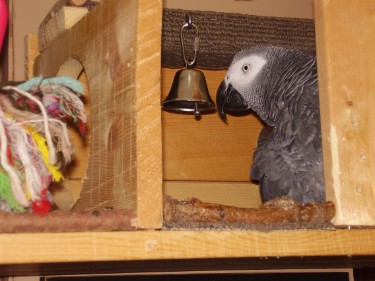 wPickles wood house, mounted on the diningroom wall next to his ropes and boings.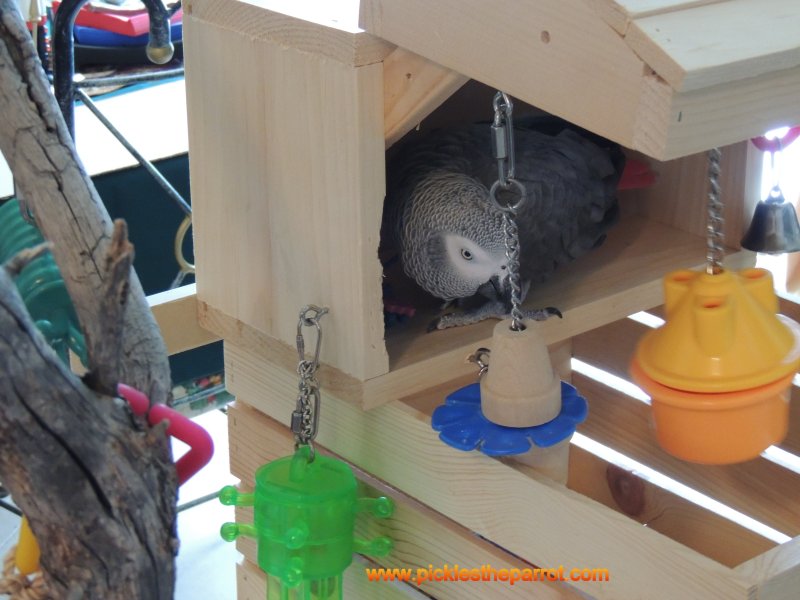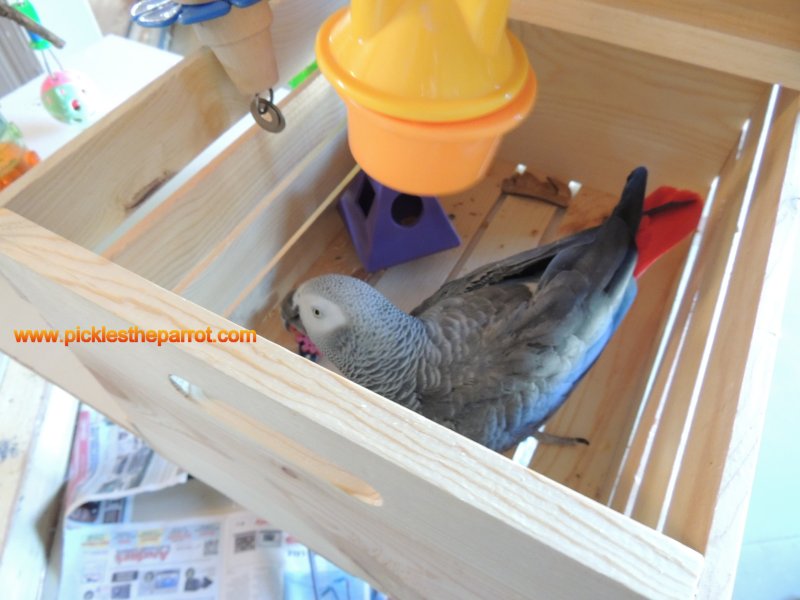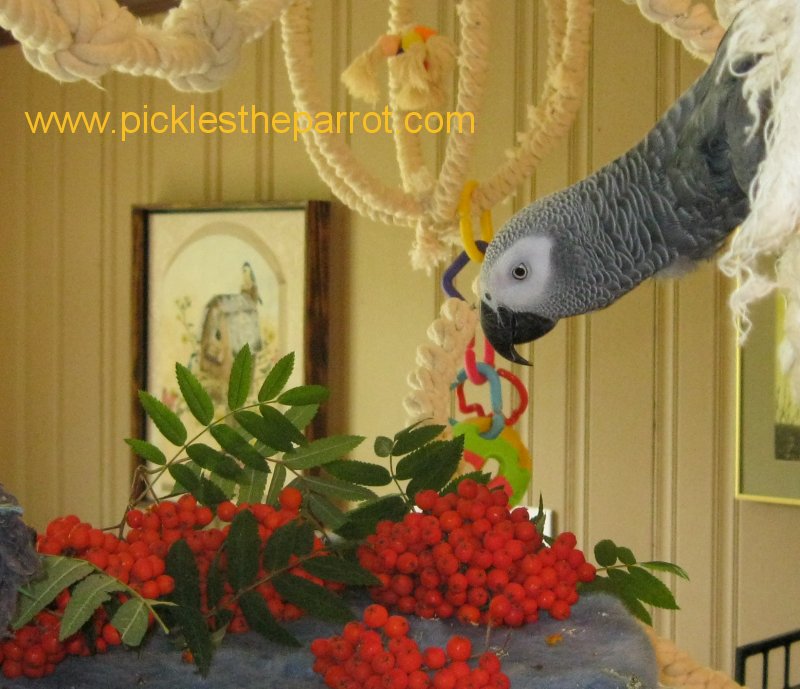 Loves his Mountain Ash Berries.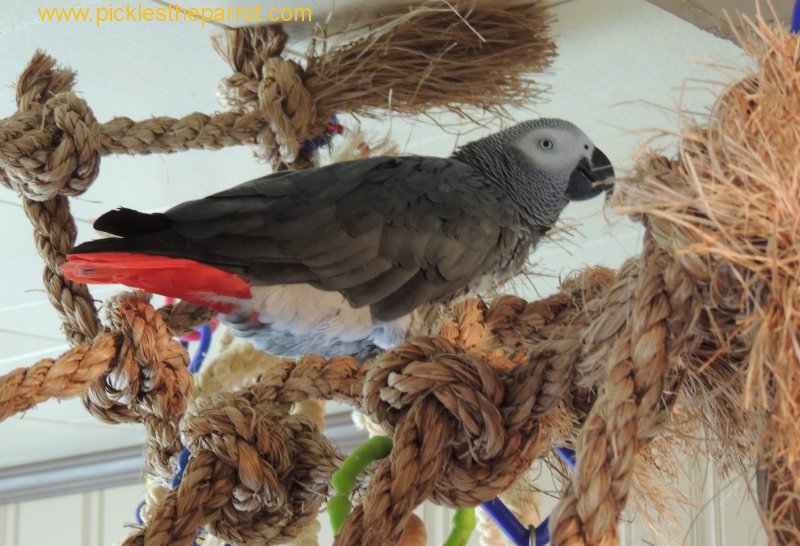 Hanging out on his ropes.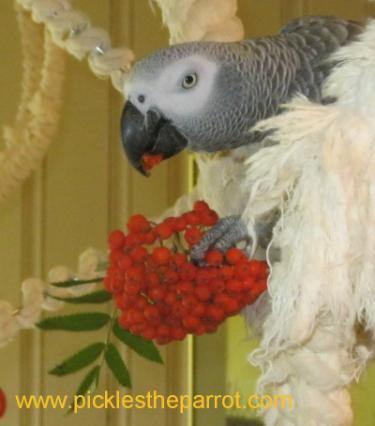 mmmm - delicious and chocked full of vitamin C.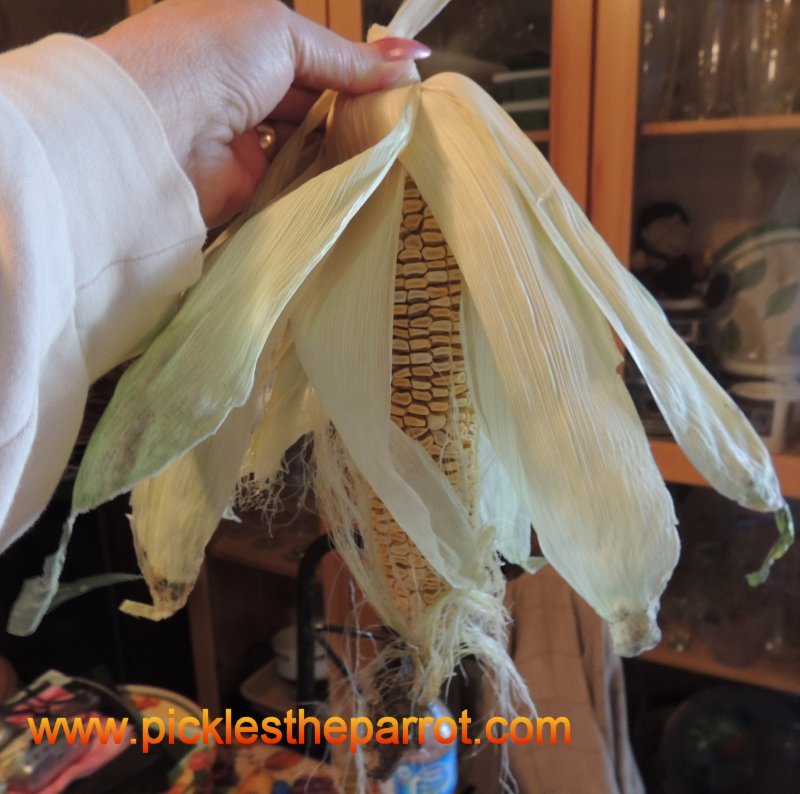 We dry out corn cobs to hang for Pickles. It makes a great toy and keeps him busy chewing on both the corn kernels and husks. We live in a very dry climate so these will dry by hanging but if you live in a moister climate, dry using a dehydrator or in your oven at a very low temperature.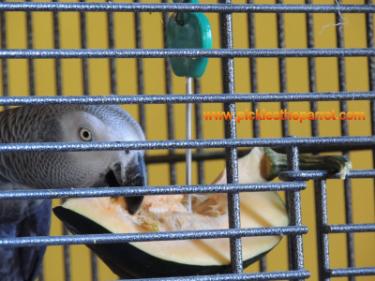 Pickles loves any kind of pumpkin or squash, hung on a skewer, raw with seeds left in. Keeps him busy for a long time and great nutrition.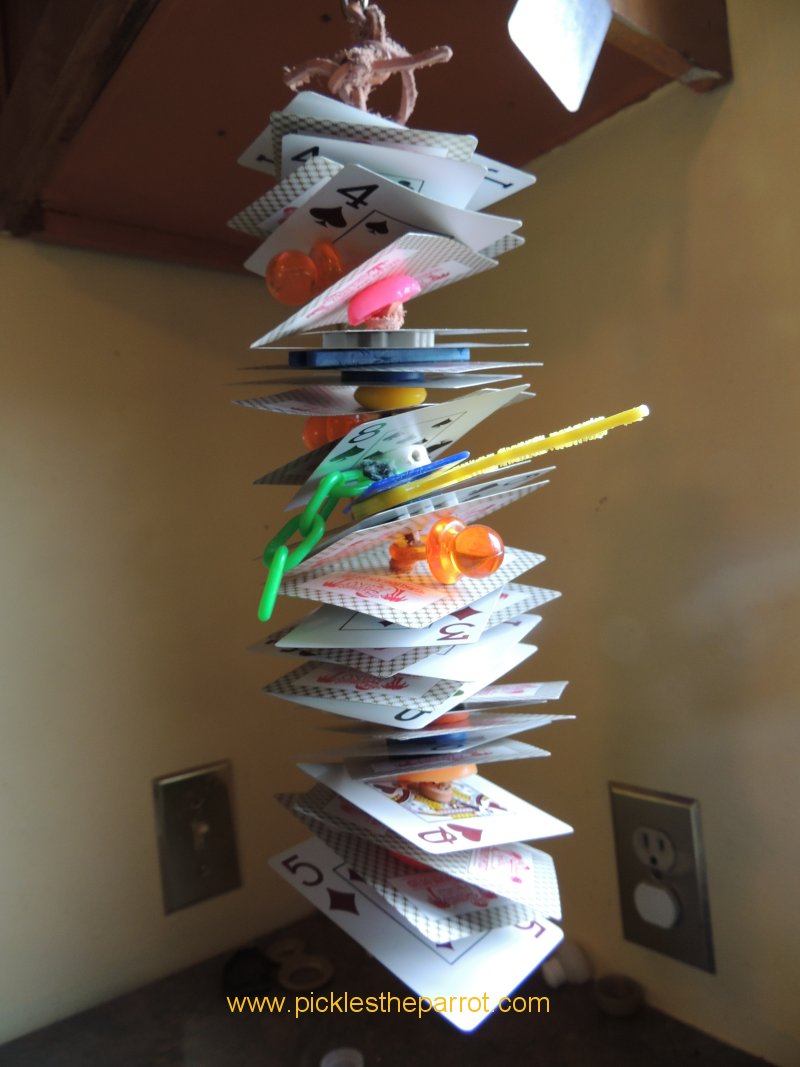 Pickles loves it when i make this toy with playing cards and chewy beads and stuff strung on rope or leather strips. Careful when buying cards that they don't have toxic coatings.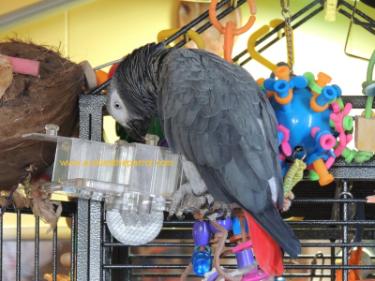 Pickles likes his foraging cups - each of 4 opens a different way.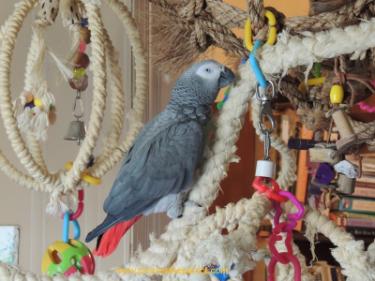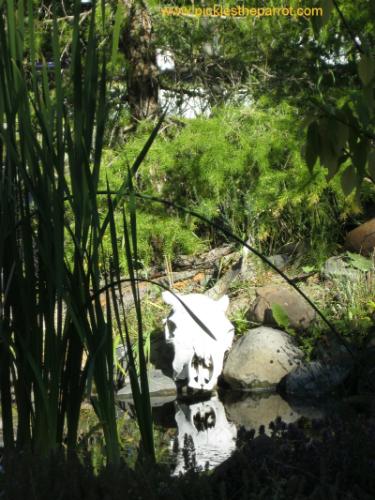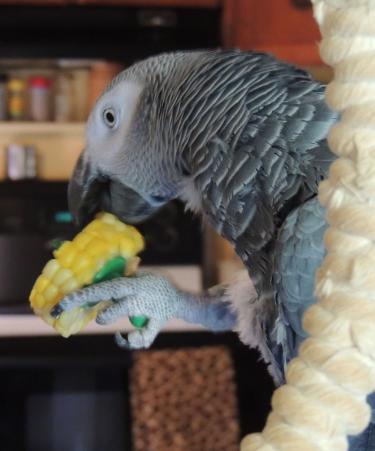 Pickles likes his corn on the cob on a corn holder - found in any kitchen shop.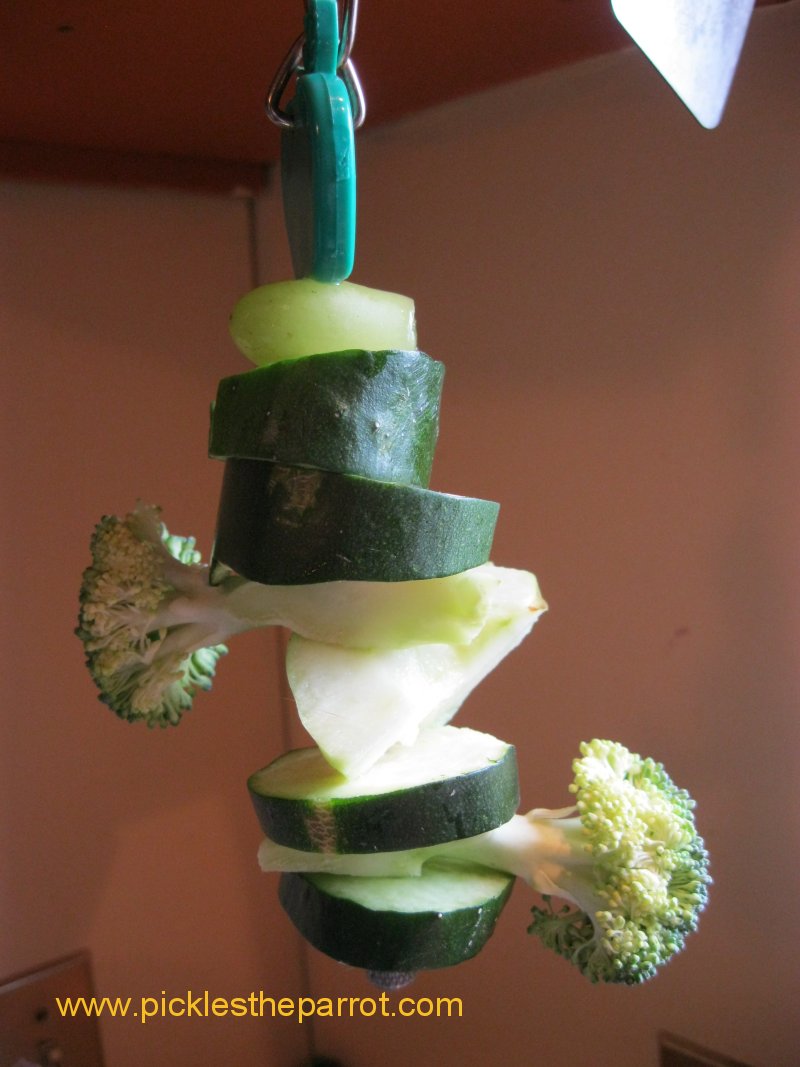 Any kind of veggies on a skewer will keep Pickles busy ripping them off - even if he doesn't like them. It's a good way to get the nutrients in his mouth though and sometimes, after ripping away at a veggie he doesn't like, he gets used to it and decides it's good after all.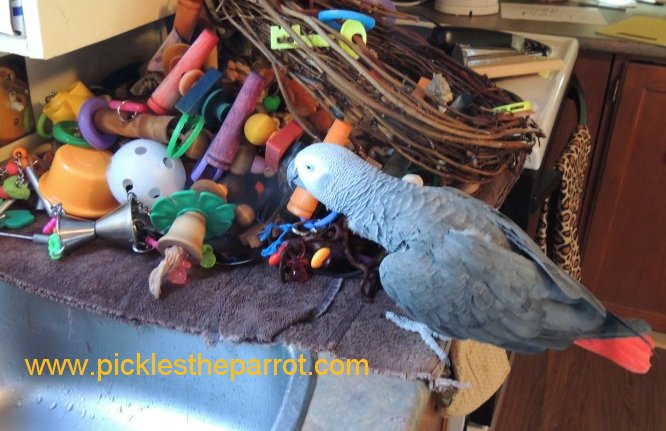 Helping Mama wash some of his hundreds of toys.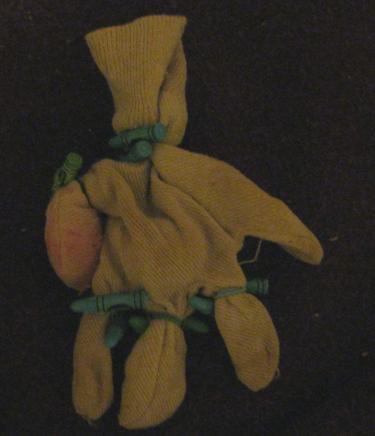 Pickles loves cotton gloves with the fingers and palm filled with treats.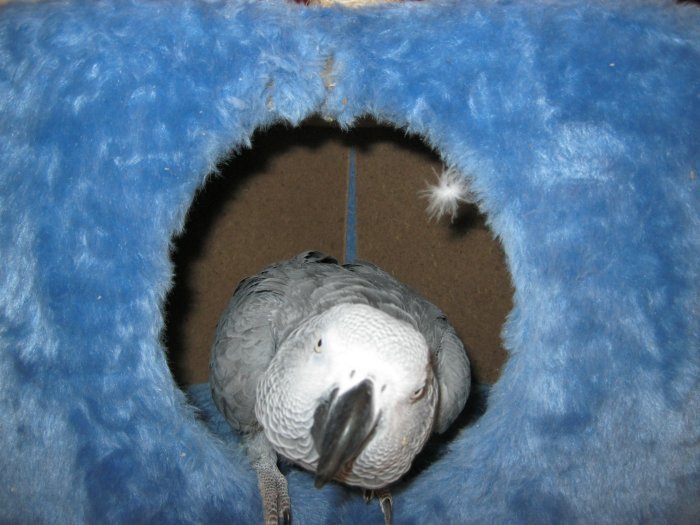 He likes all his different kinds of houses and does not get hormonal while in them.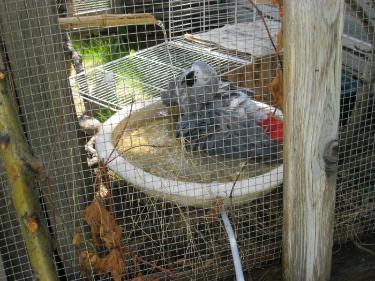 Pickles is an expert at playing in his bird bath in the aviary for long periods of time without getting anything more than his beak, feet and tail wet.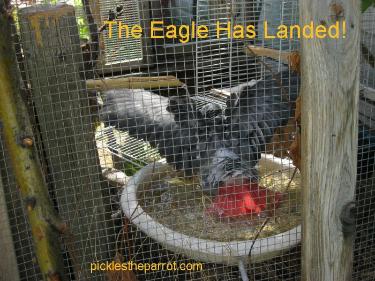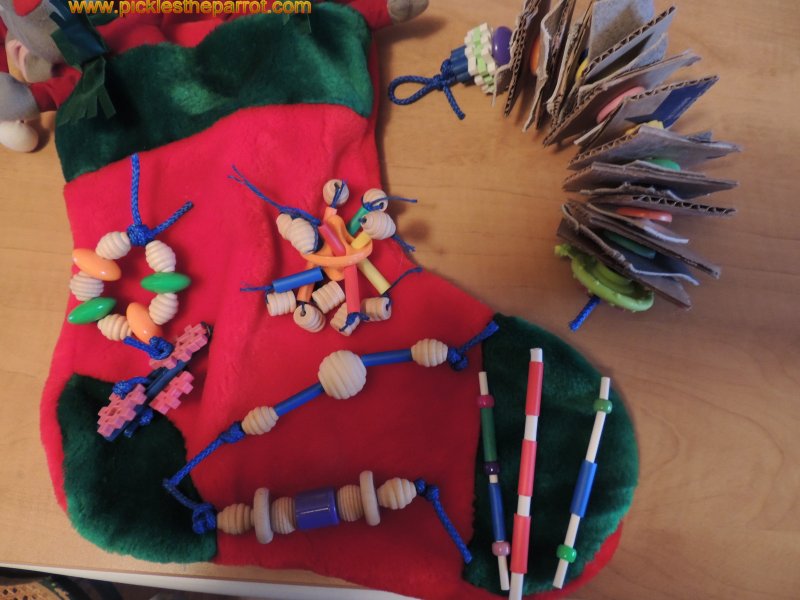 Some toys i made for his stocking stuffers. All talon toys laying on the stocking and the toy to the right is just cut up pieces of heavy cardboard from a box and strung with square piece of leather and chewy beads on some heavy twine. He goes crazy on this toy.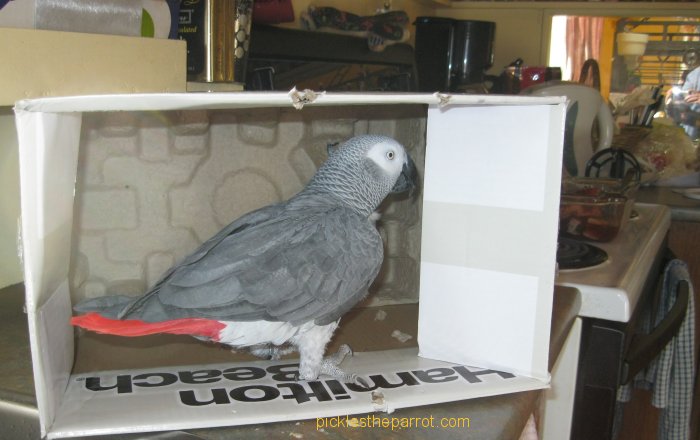 Gotta have a good box to chew on and play in once in awhile.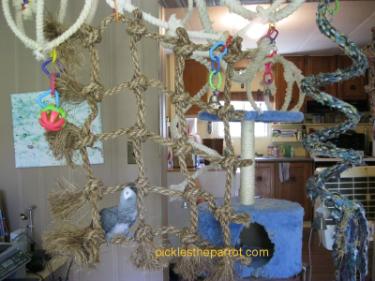 We constantly change things up in his rope area to keep things new and fun for him.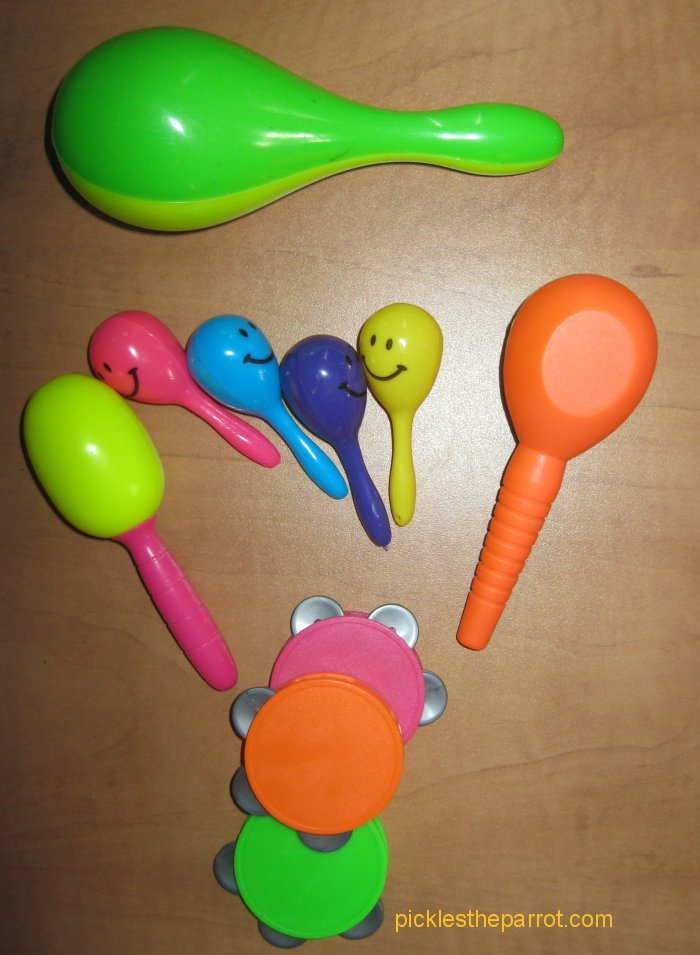 Pickles makes good music. He especially loves his maracas. You can find these in dollar stores.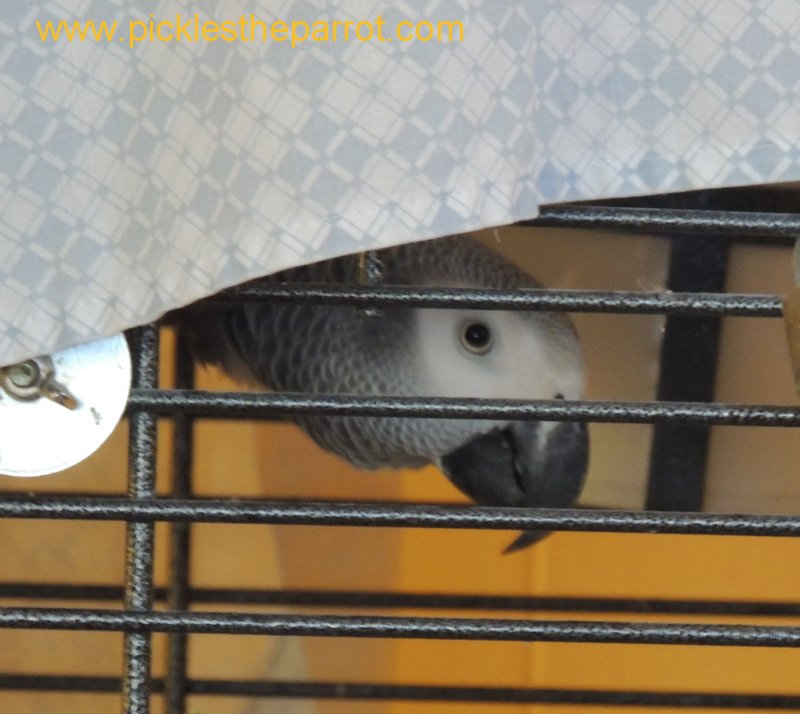 He usually doesn't care what we're doing after he gets covered up and goes to bed - he's happy just talking to himself, playing with his bucket of talon toys, grooming or sleeping. But now and then, he will peek at us.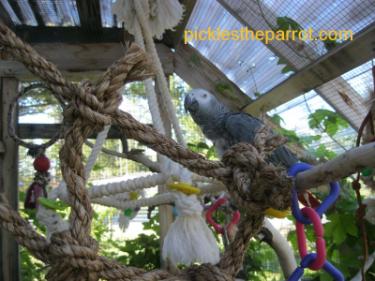 Enjoying a nice warm day outside in his aviary.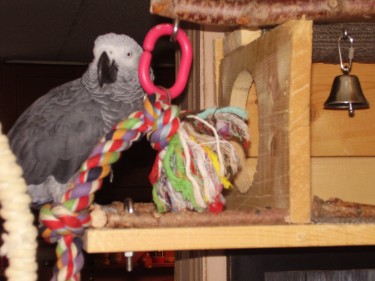 Sitting on the balcony of his wood house.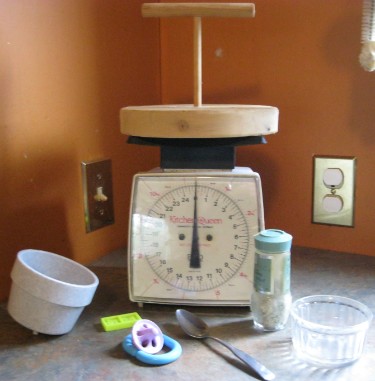 Pickles weigh scale, bowls, precious hemp seed jar, spoon (beak tapper) and the counter where he plays while i'm making his dinner.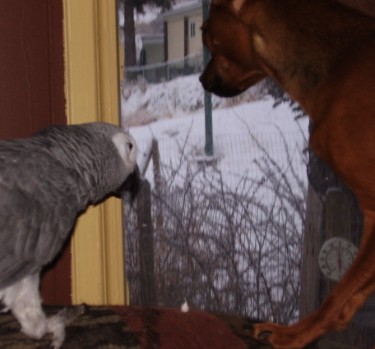 Pickles and Neeka, waiting for spring.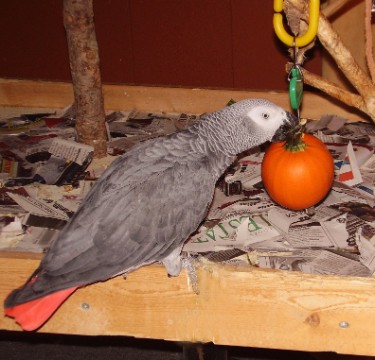 Pickles with his pumpkin on a skewer and scrap paper thrown all over his playstand with treats underneath to forage for. This was Thanksgiving Day.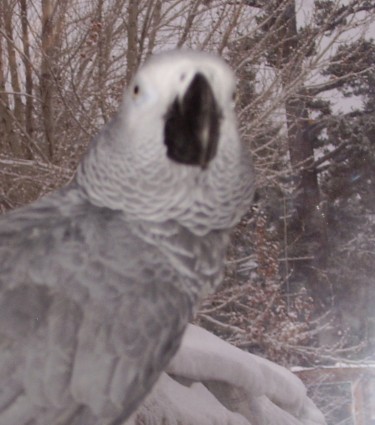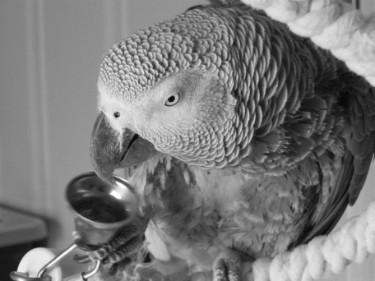 Precious, precious, PRECIOUS bells!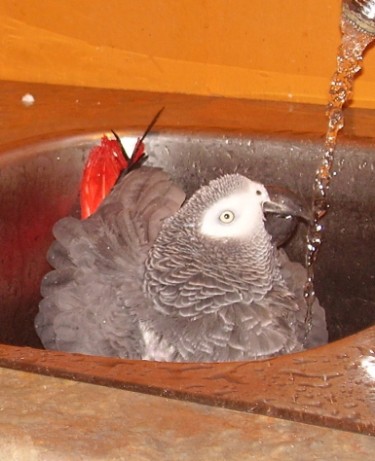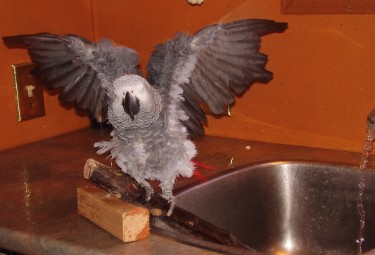 Look at meeeee! I'm actually getting a little water on me!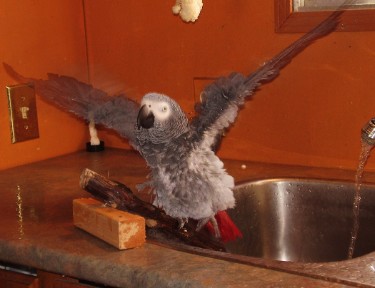 I'm a Beeeagle! (Big Eagle)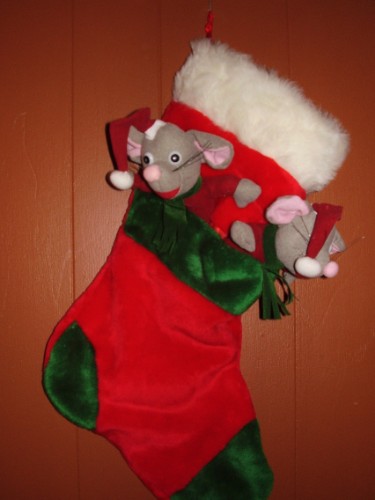 My Xmas stocking with singing mice.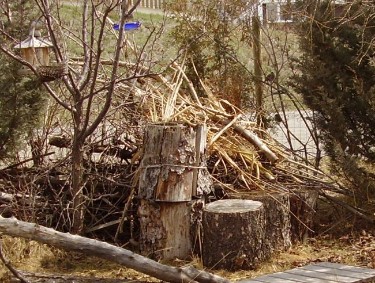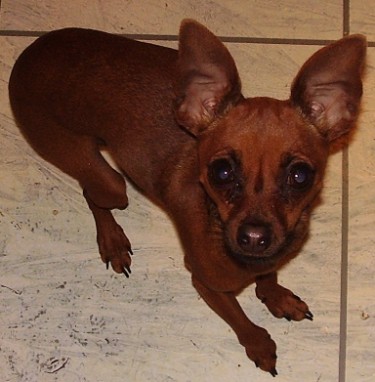 My silly looking Min Pin dog, Neeka.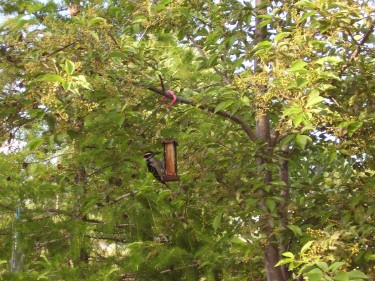 Woodpecker in our yard. We get lots of them - different species.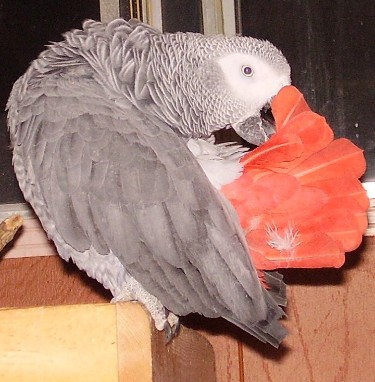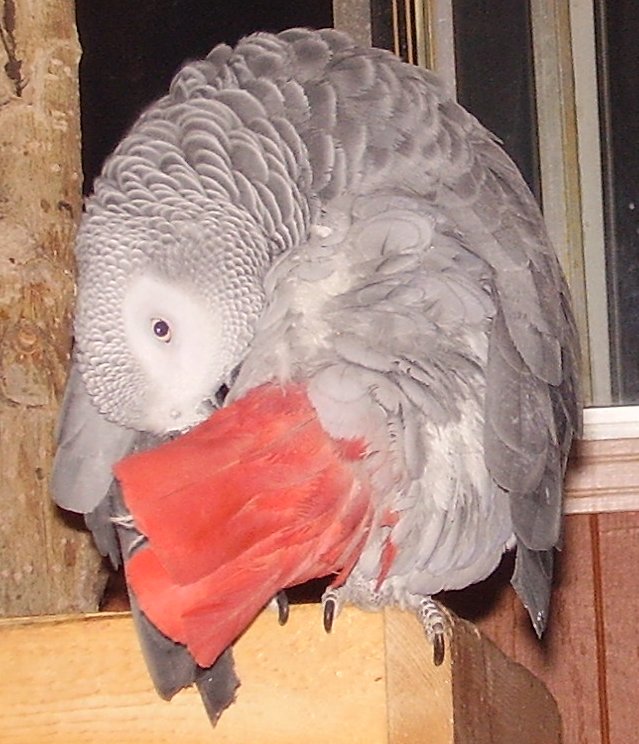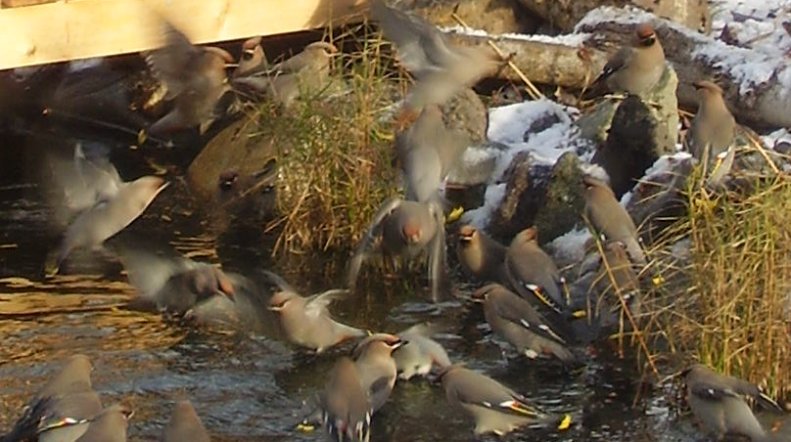 Waxwings around the pond.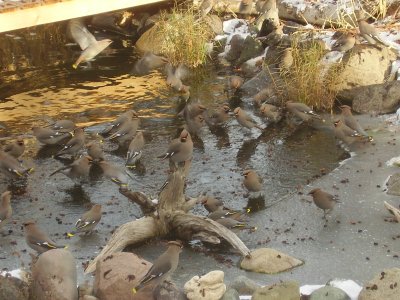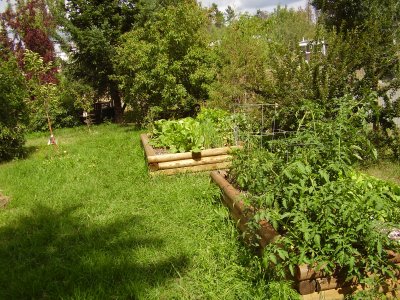 Pickles' South Yard & All His Veggies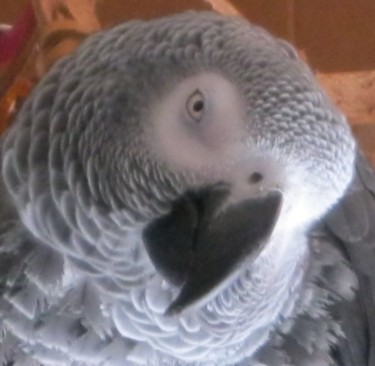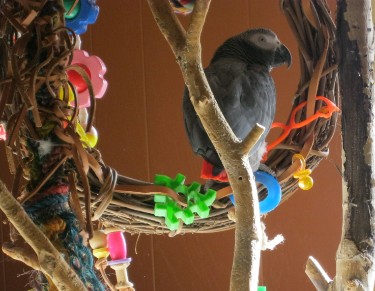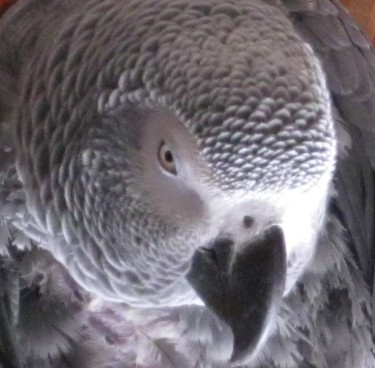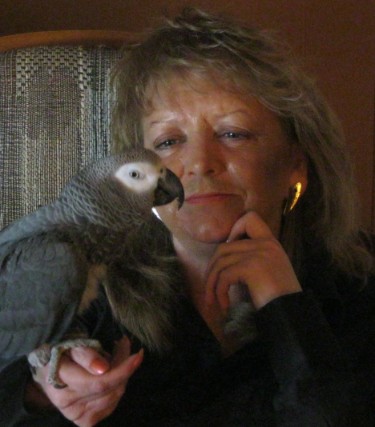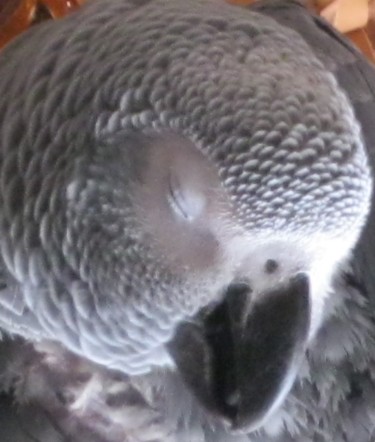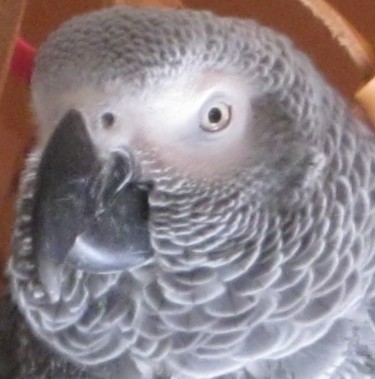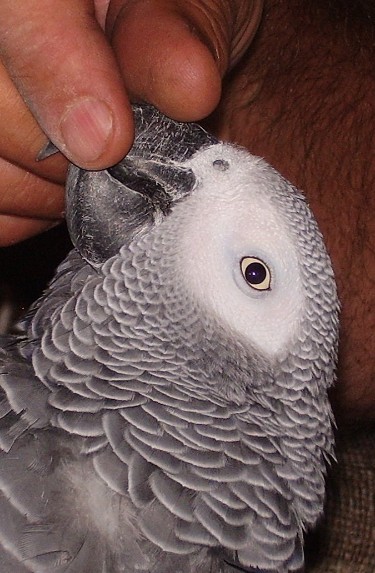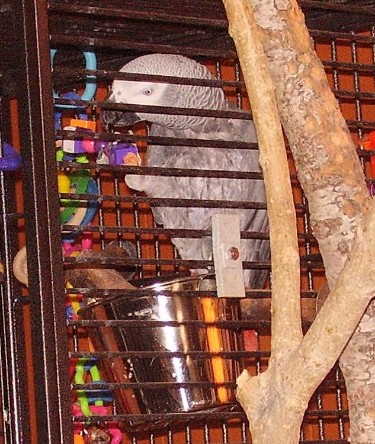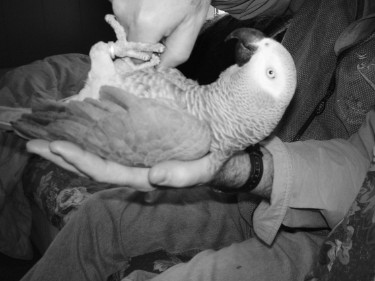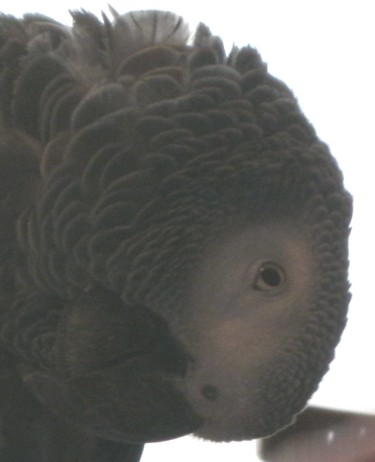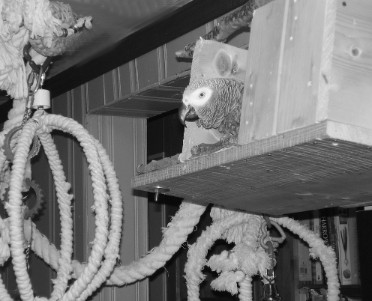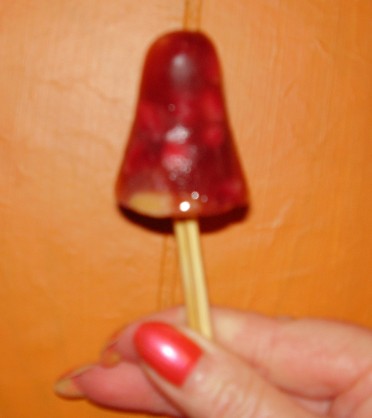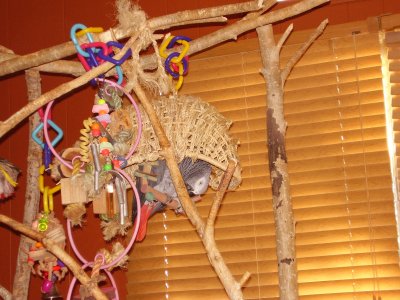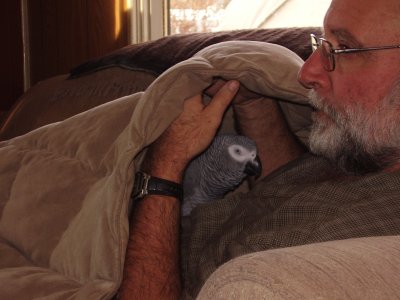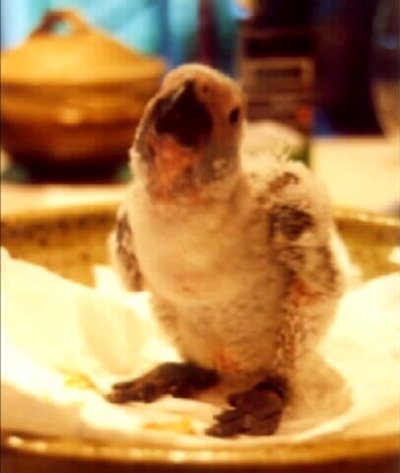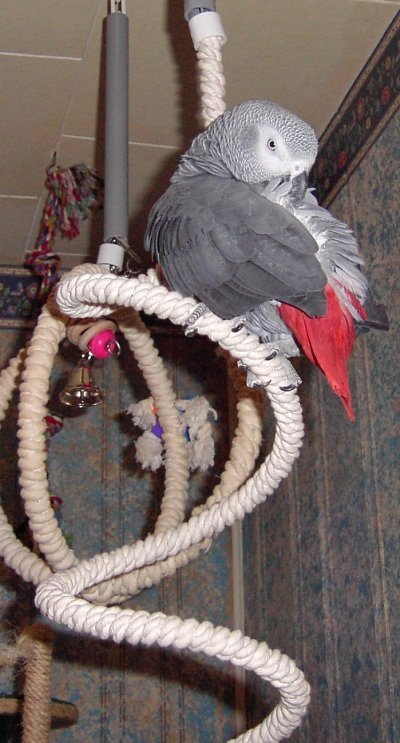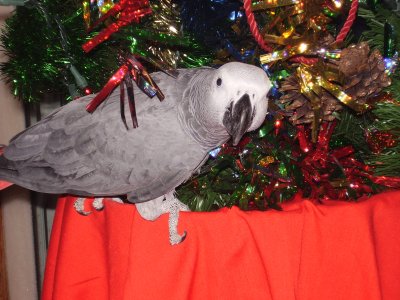 HEY ... where's MY presents?!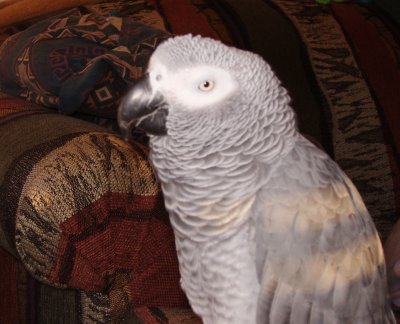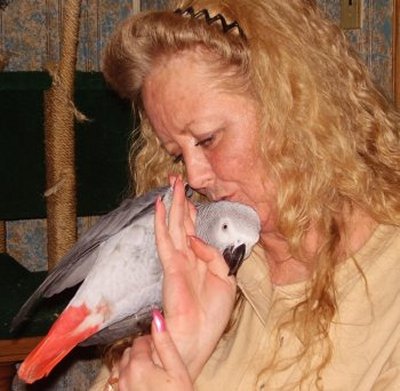 Pickles Cuddling with Mama