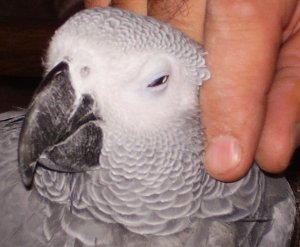 Lady Pim's Parrot Muffins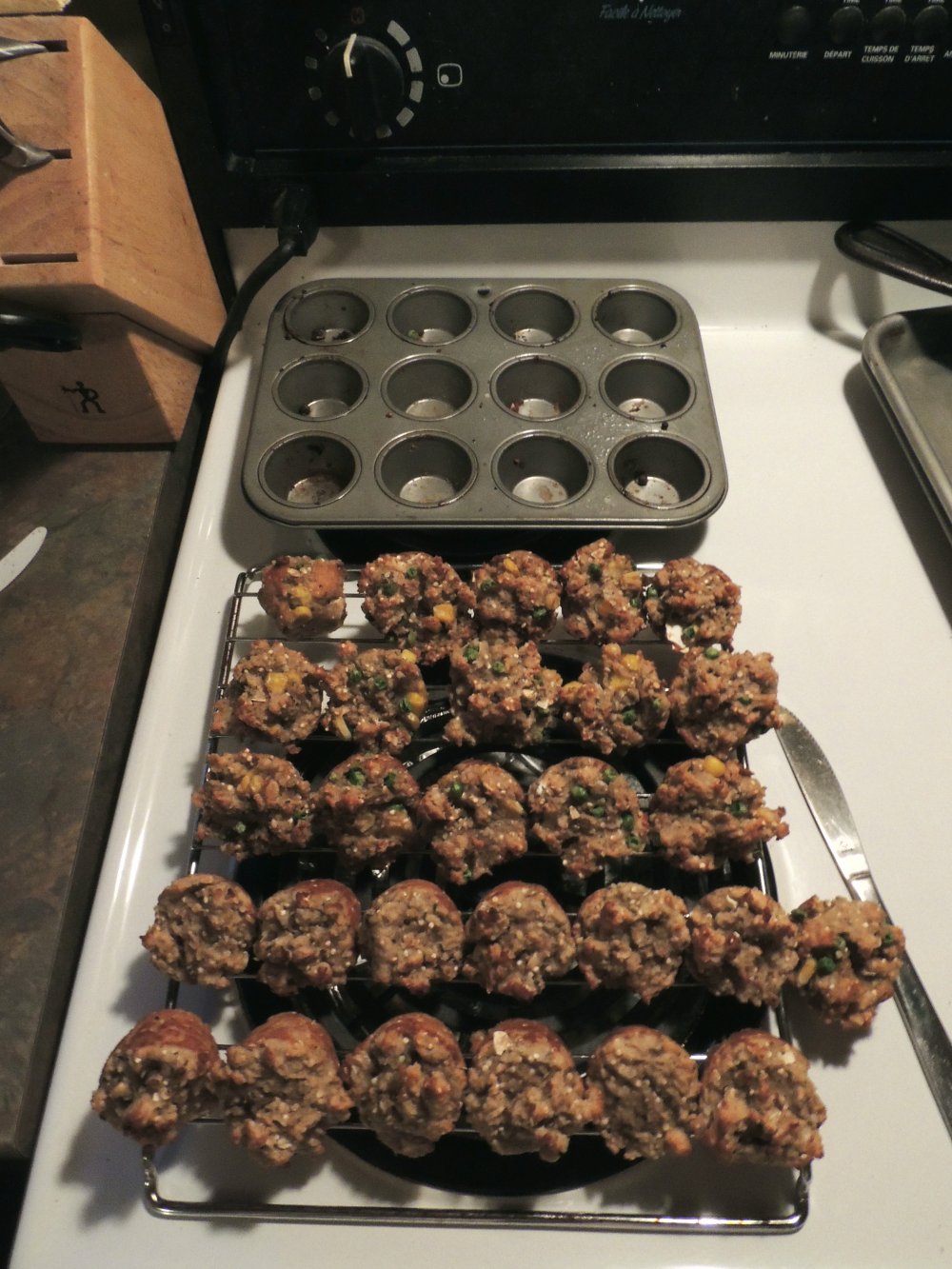 1 c. flour – brown, potato, rice or whatever type of healthy flour
1/2 cups uncooked oats
1/3 cup Hemp Hearts (see below for substitutions)

1/4 cup uncooked quinoa
1 1/2 tsp baking powder
2 eggs, with or without shell. I leave the shell in.

1/3 cup unsweetened applesauce

2 mashed bananas
1/2 cup of almond butter – or any other nut butter, such as peanut butter with no sugar or salt added
1 cup mixed veggies of your choice. I used frozen peas and corn.

Preheat oven to 400 degrees.
Mix the dry ingredients and then add the rest. If mixture is too dry, slowly add a little water at a time. You want this mixture to be fairly dry though – just wet enough that it will all stick together.


Lightly grease small muffin tins and spoon mixture into each one. They won't rise much, if at all, so you can fill them right up, or above the edges.

Bake for 12 to 15 minutes until the tops start to brown and get a little crunchy.

Let cool for a few minutes then pop them out.

I place them all on a rack and then put the rack in the freezer overnight to freeze and the next morning i put them is separate smaller ziplock bags and put them in a larger ziplock bag.

If you don't have hemp hearts – (I suggest you buy some as they are extremely healthy for both people and birds and parrots love them) – substitute any sort of nut, broken up fairly fine, or grape nuts, or seeds, or something like flax or chia seeds. Use your imagination.




The following recipe is something i made up when i had leftover pumpkin from making 'people' cookies. Pickles LOVED them.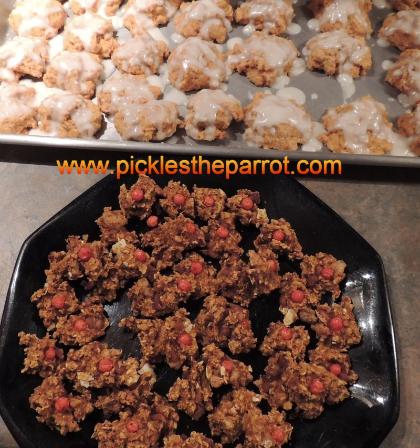 Pickles' Pumpkin Cookies
1/2 cup pumpkin (fresh mashed or plain canned pumpkin)
1 egg with shell (some people debate whether or not to give parrots egg shell - it can easily be left out)
1/4 cup walnuts - broken up small
1/3 of a pomegranate, scoop the seeds out and include the juice that comes with it. You can use more seeds if you like.
Mix everything together and drop in small spoonfuls on cookie sheet lightly oiled with canola oil. Top each cookie with a Mountain Ash berry or whatever piece of fruit you have available - or nut or Cheerio or whatever. Bake at 350 F for 12 minutes. Watch them because your oven may vary or you may make them bigger or smaller. We live at high elevation so our cooking times may be different.

When i make my birdie breads, i cut them into rows and each is divided into dinner portion sizes. I then wrap each row and freeze them until ready to use, then i break off a portion.
For flour, i use whole wheat, rye, potato or corn flour.
Autumn Melody
The following is Pickles' favorite birdie bread. It can only be made in the fall and most of the ingredients are found in our yard. You can easily substitute items that are not available to you but cotoneaster berries, mountain ash berries, wild rose hips (or domestic) can usually be found anywhere - in the wild or in your neigbor's yards. Just make sure pesticides haven't been used. And don't worry about picking out every single small twig or leaf, otherwise it's very finicky work and not necessary. Make sure to save the pumpkin seeds from the fresh pumpkin - you will be adding them to the bread but save the rest to feed to your bird over the next few days.
All the ingredients are beneficial to health, and rose hips and mountain ash berries are rich in vitamin C.
This makes a fairly large batch, 9 X 11 pan, and you want it to be almost of bread dough consistency. Depending on the ingredients you substitute, you may need to add more water or more flour for proper consistency.
1/2 cup chopped pumpkin (birdie bite size) * 1 cup steamed & mashed pumpkin * 1/2 cup cotoneaster berries * 1/2 cup rose hips * 1 cup mountain ash berries * 1/2 cup pumpkin seeds (reserved from fresh pumpkin) * 1/2 cup pomegranite seeds & juice (1 small) * 4 cups whole wheat flour * 1 cup grape juice * 1 1/2 cup water * (optional - cloves, if your bird likes them, Pickles doesn't)
Mix the berries, seeds and chopped pumpkin with the mashed pumpkin. Add flour, mix well. Add juice and water and stir until doughy consistency. Place in 9 X 11 cake pan, lightly greased with canola oil. Bake at 350 degrees for 60 minutes.
Banana/Pineapple Bran Bread
1 1/2 cup mashed banana * 1/2 cup plain yogurt * 1 cup crushed canned pineapple with juice OR 3/4 cup fresh pineapple and 1/4 cup pineapple or orange juice * 1 beaten egg * 1 1/2 cup bran * 2 1/2 cup wholewheat flour * 1 tsp. baking powder * dash of salt * 1 cup chopped walnuts (or other nuts) * 1/2 cup raisins * 1/2 cup flaked coconut
Mash banana with fork then add yogurt, beaten egg and pineapple. Mix well.
Add dry ingredients.
Add walnuts, raisins and coconut.
Consistency should be slightly wetter than bread dough. Add wet or dry ingredients if need be for consistency.
Grease an 8 X 11 pan with canola oil and bake at 350 for 50 to 60 minutes.
Pumpkin Bread
1 cup steamed and mashed pumpkin (or canned) * 1 beaten egg * 1 cup green bell pepper with seeds * 1/2 cup celery * 1/4 cup brown sugar * & 1/4 tsp cinamon powder * 1/4 cup ginger powder * 1 tsp baking powder * 1/2 cup pecans (or other nuts) * 1 1/2 cup flour
Mix all ingredients and bake at 350 for 45 to 60 minutes in greased pan.
Pip Pip Cheerios
1/8 cup each of cheerios, grape nuts, chex, brown or cane sugar, soy milk or juice.
1/4 cup each of chopped almonds, pecans, pinenuts (substitute if you like), peanut butter (or other nut butter), corn meal (or other flour).
1 tsp each of sesame seeds and canola oil.
1 beaten egg
Mix all ingredients together. Should be almost crumbly in texture. If too wet, add more cornflour or other flour.
Drop by teaspoon onto baking sheet and push one whole dry cheerio into the centre of each cookie.
Bake at 350 for 7 to 10 minutes, or until starting to brown on edges. Should make about 50 cookies.